From few not working LG plasma TV I made one half working. Just for fun and to test plasma technology. So here is small review of plasma display panel or plasma TV from LG.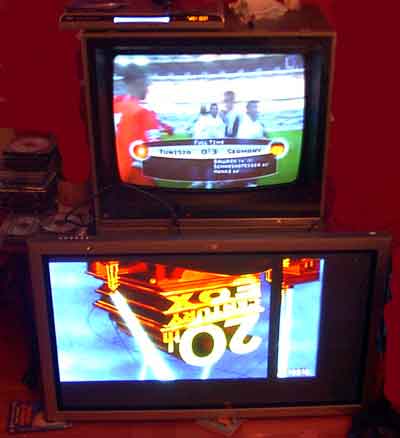 Very old (21 years) Panasonic CRT TV and 2004 LG plasma.
Plasma display panel (PDP) is a big glass device- to plates of glass, covered with conductive transparent coating in the form of line. On one plate with horizontal lines, on other with vertical. The space between glass plates are filled with some inert gas. The back plate is covered with special luminescent coating. Put voltage to one vertical and one horizontal line and small plasma discharge is produced on line crossing- small amount of UV is radiated. The UV strikes special coating and it began glowing in basic colors. The back plane is glued to big aluminium plate. It is used to collect heat and cool the plasma display.
In the front of plasma panel there is protective plastic and glass plate. The purpose of this plate is to protect sensitive plasma panel, prevent people from touching hot device and to filter some colors.
In the back of the PDP is lots of electronics. Very big power supply, special computer for signal processing, plasma current supply and the decoders. The decoders-registers are special chips for commutating lines in PDP. With flexible PCBs these chips are glued to PDP glass. These devices are not changeable. So, if you plasma TV shows black line, this means that one of these chips are dead. And you must change all few thousand USD valued PDP if few buck valued chip is dead.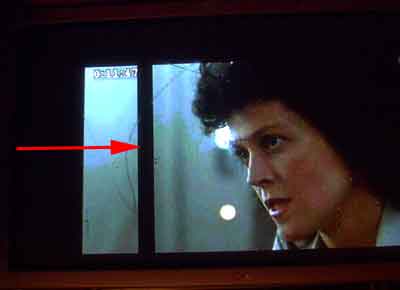 This is the line of death.



The TV has lots of connectors: VGA, Composite, S-Video, component, sound in, speaker out, RS-232, remote controller, ac power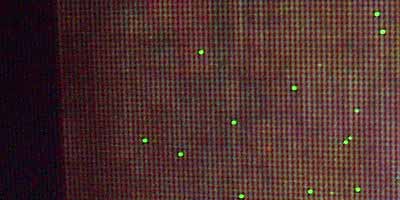 Also there is some noise on this display. Small random dots moving on screen.
To be continued…