In local supermarket I bought small car MP3 player. It cost about $25 (79Ltl). It is USB MP3 player with FM modulator. Just plug it to cigarette igniter socket, tune car radio, put your USB flash memory stick and enjoy the music.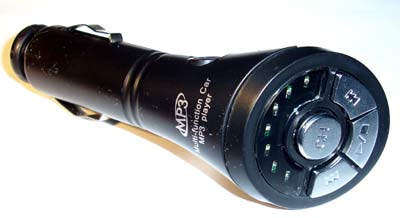 I didn't hope to receive good quality sound from such cheap device, but the real situation is much worse. The sound is full of interferences. Especially when there is some pause in your music. The interference is dual- from the car itself and from USB player.
Both interferences are solved in different ways. So, first of all, we must disassemble the device. It is very easy, just unscrew the fuse holder and remove the ring.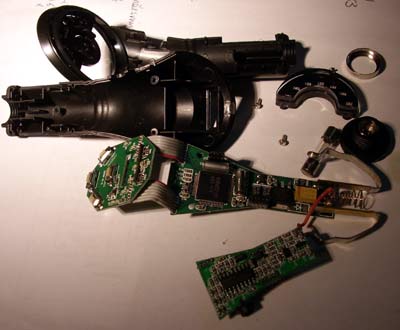 Inside you can see three PCBs: indication and control, FM transmitter, MP3 player and PSU. The red wire is just antenna and it tends to tear off. It goes from transmitter to car's +12V line. So the car's electric lines acts like big antenna.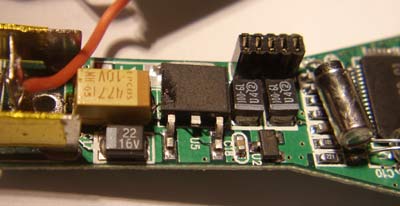 That yellow capacitor is added by myself. This is the part of the struggle against interferences from MP3 player's CPU and USB line. I also added one 470uF capacitor to USB connector. This decreased "reading from USB" noise.
The PSU of the player is very simple. (Component name come from silkscreen.) +12V from the automobile, L1 choke (too small to be significant), 22uF 16V (c17) capacitor, U5- UTC78D05L linear regulator, small ceramic cap and 100uF 6V tantalum capacitor. Now there are two linear regulators U2 for U4 for 3.3V and CPU BU9432-C1 Vcore. The CPU is made by Rohms. The comapny is very ugly- they didn't publish datasheet of their products.
There is possibility to find player with switched regulator- there PCB traces for some small Switching Regulator instead of U5 and landing places for U1, D1 and L?. The Switching Regulator is much more economic device but more noisy. The power drain is quite big, as I replaced the fuse with appropriate inductor and it melted.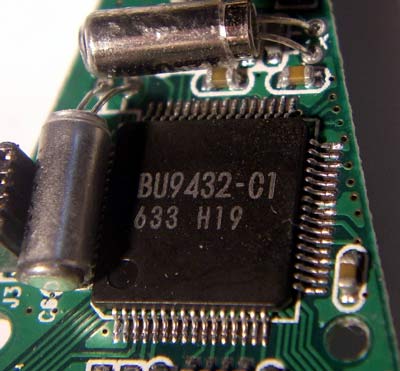 I found only this information about MCU and I only discovered that there are more features of the MCU than it is used.
The BU9432-C1 and BU9434-C2 audio system processor ICs implement a USB 2.0 full-speed host controller, an MP3 decoder, a D/A converter, and a system controller—allowing playback of MP3 files contained on flash memory via USB. The BU9432-C1 features a headphone amplifier, while the BU9434-C2 incorporates an SD card interface controller, a sound effecter, and I2S/SPDIF interface support.

The chips' MPEG audio 1, 2, 2.5 decoder features a sampling rate of 8 to 48 kHz and a bit rate of 8 to 448 kbits/s, VBR. The D/A converter has 0.03% distortion, a 93-dB SNR, and an 88-dB dynamic range. The ICs have a FAT file system and are offered in TQFP64V and VQFP64 packages. ($5 ea/1,000—8 to 10 weeks ARO.)
The FM transmitter and stereo encoder is made on HY1417LP chip. I didn't find any useful information in the internet about it.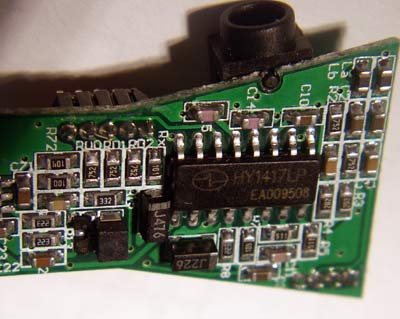 Also, there is small serial RAM using 24C02 chip. It must store some setting in it, but I didn't find it working, as after power-off the player starts playing from the beginning of the playlist.
On display and control board other chip, AM81SA10705, is placed. It is some sort like LED buffer and serial-parallel converter.