Today I decided to break apart few bluetooth headsets. I have 3 models, all made by Logitech. Most of the headsets have same, typical damage- the mic wire is broken. The problem is even described in manufacturer's webpage. Just if you turn microphone around the headset and use some force, it breaks very small stopper and turns around. And small wire from main PCB to mic is broken.
I tested the devices with my old Nokia phone and computer using microsoft usb bluetooth adapter from mouse and keyboard. Computer detects Logitech headset, but didn't install the "audio device". In Logitech pages the problem is described like: "normally all devices are installed automatically". And not a single word about "abnormal" situation. I think it is microsoft fault- microsoft bluetooth stack is lacking some "standard" elements. You need to install Widcomm drivers.
Inside the headset is nothing interesting…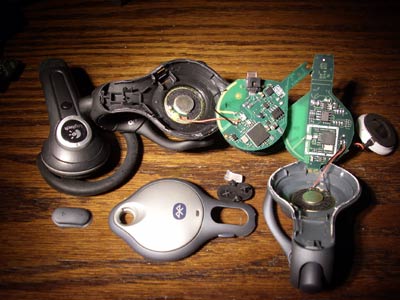 On the other side of PCB is only quite big Liion cell and contacts for charger.
Main element in the headset is CSR semiconductors chip. It is MCU, DSP, audio device, bluetooth in one chip. On the right, emphasized PCB you can see something like EMI shield, but I thing that it is only some leftover from some bigger shielding.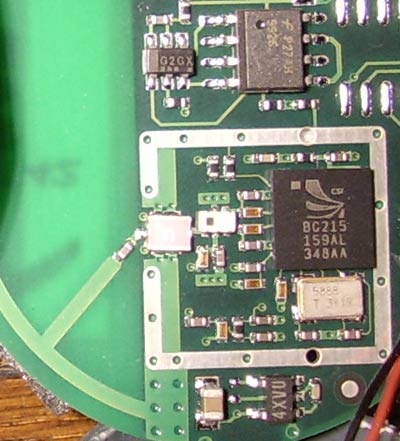 Other components are only for charging, LEDs management and audio amplifiers.