Got some bad security video cameras for recycling. Few color ones made by Philips, two Sanyo and others KC-263C and KC-383C. It is mid and high resolution black and white CCIR video cameras.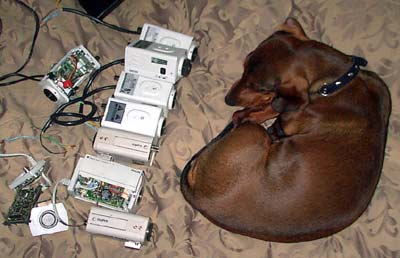 Security cameras' bodies and some generic brown Pokemon.
The KC263 and KC383 are powered from the mains power. It can handle 85…265V AC. And the problem in these cameras is that power supply is very ugly made. The problem is with 12V output capacitor. It is 1000µF x 16V low ESR capacitor. Manufacturer used cheap product and all the caps were blowed up like in computer main board. As voltage is only 12V, I decided to use capacitors from mainboards. I needed to drill extra hole and use much bigger cap. But now I can use 1000 or even 2000µF caps x 16V.
Even camera with missing PSU is repaired. I is working from my computer PSU.
About color philips cameras (LTC 0450/51). The problem is same. But as power supply is much more complicated, I need to replace 9 capacitors: 8 @ 10µF x 35V and one 220µF x 6.3V. Small caps replaced with exact ones, big was replaced with 1500µF x 10V from computer motherboard and made by Sanyo. Both color cameras are working…
Also there are two cameras from Sanyo. They are powered from external 12V PSU. One camera is dead (internal converter), other is working.