Wiki:
Dekatron (or Decatron, or generically three-phase gas counting tube or glow-transfer counting tube or cold cathode tube) is a gas-filled decade counting tube. Dekatrons were used in computers, calculators and other counting-related products during the 1950s and 1960s. "Dekatron," now a generic trademark, was the brand name used by the British Ericsson Telephones Limited (ETL), of Beeston, Nottingham (not to be confused with the Swedish TelefonAB Ericsson of Stockholm).
I have several old soviet tubes A106. It is high speed, hydrogen filled dekatron. It is special tube to count or divide impulses. This particular tube is "very soviet"- it is unstable, sometimes misses pulses or jump two segments from one pulse. Maybe this happened because of very simplified circuit I've used to test?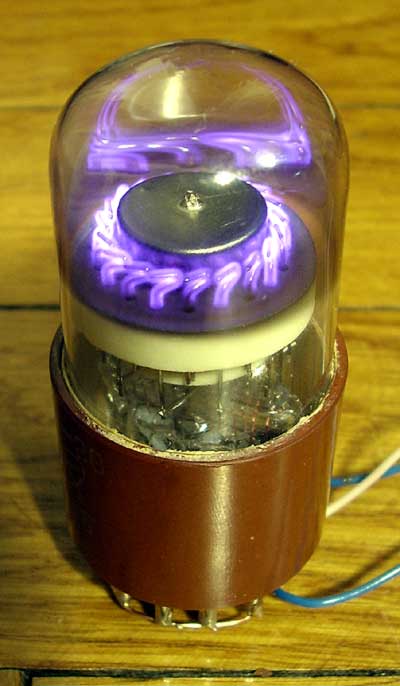 It glowing everywhere because of long exposure when making photo. It was fed by 50Hz mains current and tiny dot run around 5 times in a second. And the color of the tube is absolutely different.
Here is the animation:
And here is the circuit diagram to test the tube. Warning! High voltage abroad. Schematics are very typical- voltage multiplier and pulse shaper. The only problem with hydrogen filled tubes is high working voltage.