At last I repeated experiment from youtube about burning DVD laser. I dissasembled old DVDRW drive. I noticed small crack in laser diode, so I removed the glass. As open laser is very prone to external damage, keep it from water, dust and agresive liquids. I placed laser diode to some colimator from old laser printer. I pumped power up to max- I have few diodes, so decided to burn it to death.
Best way to tune laser beam is to use black, matte material. I used side of the match box- it is brown, but no shiny spots. Also, phosphor on it make nice little smoke. I recorder this experiment with camera, but as the beam is very shiny, the quality of the image is not very good.
Snapshots from video: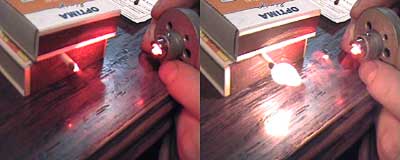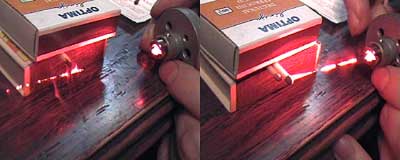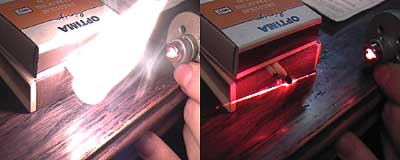 And here is the movie about it (Xvid, ~1Mb):
First Run, double matches.
Second run. Single match.
Current is about 0.5A.
More links form my blog (Lithuianian, still not translated):
Next you can see images of laser diode modification.
Diode before. You can see small crack in the glass.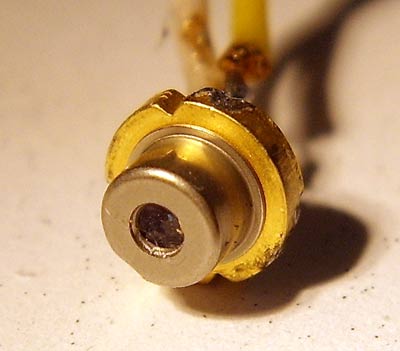 Diode without front cover. I put small current to it, so we can see small shiny crystal.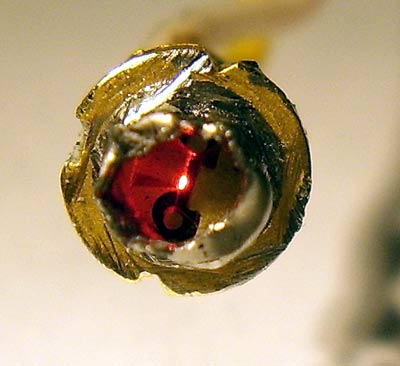 So youtube movies: