I am using wireless mouse for several years. Recently I collected some same model spare mice for my experiments. It is low frequency (~27MHz, CB band!) mouse with docking station to charge two AAA batteries. All other specifications are typical. The only annoying thing this this mouse are side buttons programmed to act as "back" and "forward" in internet explorer. Also there is another quite annoying feature- very short time for idle time. Just leave the mouse for minute without moving and it change status to standby. You need to press any button to revive the device.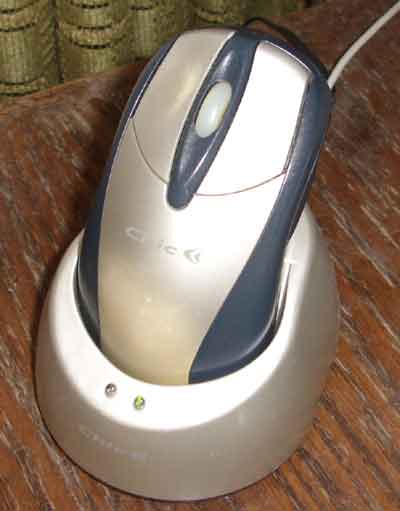 The radio range is quite short, but who is using mouse in big distances. In my experiments, the max distances was about 3 meters.
Time to open the mouse…

I am interested in docking station only. The mouse itself is standard device without any interesting stuff. There are few interesting parts in docking station: radio module and charging circuit. The charging section of the mouse is independent. You can broke the PCB along perforation and you'll get the NiMH charger.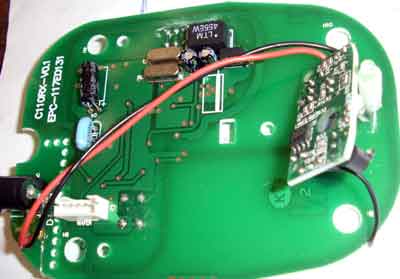 Charging circuit is simple, only one transistor A733 and two chips: LM393 and 1722-50L (AIC1722 300mA Low Dropout Linear Regulator).
Most interesting part is radio module. The CPU is quite powerful. Even if the mouse is PS2, the MCU has USB support-Cypress CY7C63001A. The problem is that CPU is OTP. So you can throw it away. Other chips is some serial EEPROM 24A02 and other small stuff.
The useful part in this mouse is chip named 31142. It is UTC TA31142. Abstract from datasheet:
The UTC TA31142 is a low power IF receiver IC and is suitable for use as the second IF down-converter in double-conversion paging systems. It is well-suited for POCSAG paging applications and incorporates a 2-level FSK demodulator consisting of a quadrature FM demodulator, on-chip bit-rate filter, and 1-bit comparator. An on-chip 1V regulator is provided for convenient biasing of off-chip circuitry.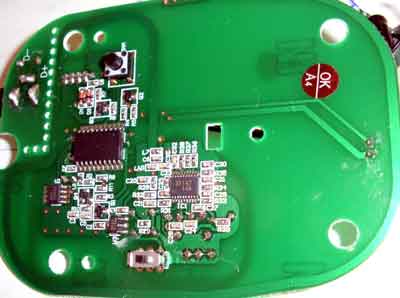 All the small stuff for radio part is near main chip and the radio part is at the distance of the MCU. So radio can be used as independent radio module. I tested and it is working fine. You need to supply the power to the chip and everything is working. the antenna is printed on PCB, but it is very easy to change it to more powerful one.
The main frequency of the mouse is set by crystal resonators. There are two of them 27,500 and 27,550 MHz for heterodyne. The mf is standard- there is 455KHz ceramic filter.