In German (sprut.de) pages I found small schematics for caps meter. This schematic is designed for electrolytic capacitor metering. According to author, device range is from ~10µF to ~65 500 µF. This is not very accurate meter, but it is suitable for testing big electrolytic capacitors used in computer mainboard. And you must remember, that all electrolytic caps capacitance is printed on the body of cap with tolerance of 10, 20%. And for very big one even up to -20% … +50%.!!!
I made it on my testing breadboard for testing. The rainbow wire going outside board is ICSP connector to Willem programmer.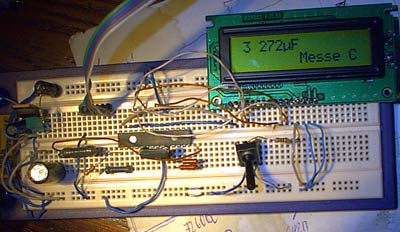 The circuit is very simple. The MCU is Microchip PIC16LF876A-I/SP (I used this) or PIC16F876A.
ICSP connector must be connected to: DATA-RB7(pin 28), CLCK-RB6(pin 27), Vpp-MCLR(pin 1), Vcc-Vdd(pin 20), GND-GND(pins 8&19).
Warning! Capacitor must be discharged before connecting it to meter.