From time to time, in newsgroups, in www forums and in www pages, people speak about converting DC to DC, or DC to AC, charge-pumping, building inverters (step up, step down converters) for various devices. From high power car audio amp to handheld stazer. There are lots of schematics (especially in Russian web) using simple TTL logic, transistor and other devices. But why invent bicycle? There is special, very cheap and very easy to find, chip. It is TL494 (or any other analog). You can found it in any PC power supply. According data-sheet, TL494 is "PULSE-WIDTH-MODULATION CONTROL CIRCUIT".
The TL494 incorporates all the functions required in the construction of a pulse-width-modulation (PWM) control
circuit on a single chip. Designed primarily for power-supply control, this device offers the flexibility to tailor the
power-supply control circuitry to a specific application.
The TL494 contains two error amplifiers, an on-chip adjustable oscillator, a dead-time control (DTC)
comparator, a pulse-steering control flip-flop, a 5-V, 5%-precision regulator, and output-control circuits.
The error amplifiers exhibit a common-mode voltage range from –0.3 V to VCC – 2 V. The dead-time control
comparator has a fixed offset that provides approximately 5% dead time. The on-chip oscillator can be bypassed
by terminating RT to the reference output and providing a sawtooth input to CT, or it can drive the common
circuits in synchronous multiple-rail power supplies.
The uncommitted output transistors provide either common-emitter or emitter-follower output capability. The
TL494 provides for push-pull or single-ended output operation, which can be selected through the
output-control function. The architecture of this device prohibits the possibility of either output being pulsed twice
during push-pull operation.
The TL494C is characterized for operation from 0°C to 70°C. The TL494I is characterized for operation from
–40°C to 85°C.
Before doing any useful device, I deeply recommend to examine how this chip works. This will be some sort of TL494 tutorial 🙂
Take your breadboard, prototyping board or anything you like and connect wires according this schematics: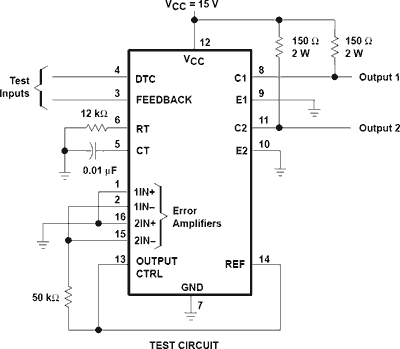 TL494 test circuit
If everything is connected right and detail are similar to used in the picture, the schematics will be working. Leave 3 and 4 open. Use your oscilloscope to test is oscillator is working- on CT (pin 6) you must see saw. The output will be null. Now connect FEEDBACK (pin 3) and DTC (pin 4) to ground (GND). You must find square pulses on the output. In the next message I'll explain the pins in more details.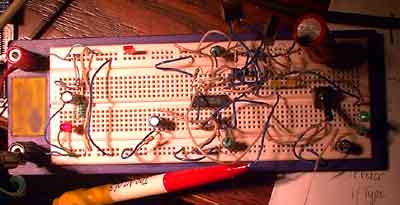 TL494 in the breadboard