From young years I was interested in showwave (HAM) radio, but due to economical and political situation I never started (you know, the axis of evil- soviet union and etc.) Later I managed to listen some of the HAM radio stations using old JVC radio when I was out of the city. The radio itself is not designed to listen SSB or CW signals, but sometimes I can understand some of the voice talks. Especially Russian HAM users- they sometime are using all AM/FM moduliations and curses every second word.
But I never managed to understand CW (morse code)…
Now, when there are lots of software, there is no need to learn that code. Just dowload software, start it and connect to your radio.

For my experiments I was using Ukrainian HAM program MixW (www.mixw.net). Using computer near radio introduce new problems- computer itself is like big noise generator. Using proper grounding, locating computer far from radio, using feritte baluns/chokes on power and audio cables isolates lots of interference.


This is clear sygnal from some local radio station. It is located in 80m band and it is fully automated. Some sort of beacon.
All the time it transmitted "CW TEST LY3BB LY3BB" and it was very boring. It was a bit far away from other station "pile up". Btw, Lima Yankey is Lithianian callsign.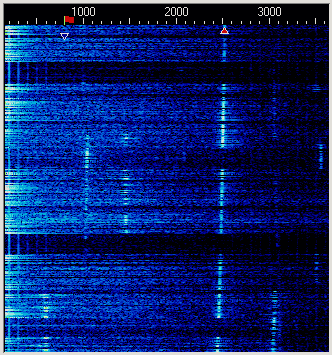 This is other Lithuanina beacon- LY7M TEST. Some other radio stations are working nearby- broadcast radio is wideband, so I can hear several radio stations at the same time and computer software digitally filters and separates stations. It is some sort of SDR here.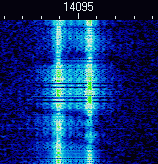 This is dual tone teletype (RTTY). This is not from HAM band, but in some other medium or longwave region. Maybe some commercial, goverment or millitary translation. The data itself was scrambled.
When personal computers were introduced to HAM world, lots of experiments using egzotic modulations were invented. Here is illustration of one: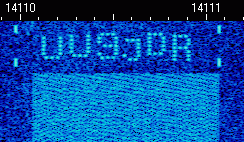 I never cathed this, this is image from internet.
This is introducing to quite interesting world of HAM radio. In near future I'll repost more information about SDR (software defined radio) for your information. I must remind, that original post of this article is dated 2008, so some information is outdated.