Original post from 2008, now there are good alternatives to this experiment.
There is one very usefull and practical instrument for hobbyist- logic analyser. This is just instrument to collect variuos multichannel data to computer ant then analyse it offline.
Some analysers were connected to computer LPT port, others are more sophisticated.
Some of electronic events are very fast and to catch them we need to quantize data very fast. FPGA based systems are the only cheap way to do it, especially if you have spare FPGA board.
I found in the internet some third party firmware and software for Altera DE2 board. And now sampling frequence is 100MHz. All data is transfered from FPGA board to "big" computer via serial cable (using selfmade USB serial cable. BTW this selfmade cable is much more reliable than many Chinese made cables).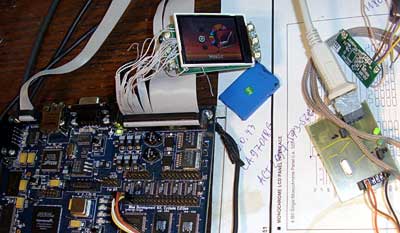 It is DE1 FPGA board with Cyclone EP1C20F400C7 chip. I connected to other device using 80 lines IDE cable. (every second line of the cable is grounded).
I've tested this design with ZicPlay media player screen. (as for 2015 I never used this screen and all players moved to trash) I just wanted to peek to data to find what data is screen bus.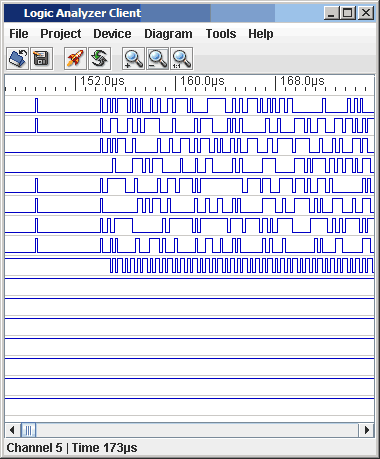 It is Zicplay device boot moment snapshot.
More information and all software/firmware are in Lithuanian blog page.