In one company I was forced to install several copies of Norton Antivirus 2008. This was retail version of software in nice boxes, and I needed to enter all registration-configuration data in every computer. At a first glance, everything is very simple, just place CD, push few buttons… And I forgot that it IS Norton Antivirus. First, there were older versions of NAV in computers. Norton antivurus requested to reboot each computer twice for upgrade. And all this reboots require to enter administrator passwords…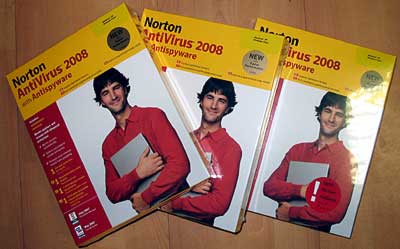 Here is the story: go to computer, open nice box, take the CD and CD-key printed on envelope. Place CD into computer and wait for automagic install. No way! Place CD and wait for few minutes (tens of minutes- depending on the state of the computer) and then you receive message, that there is some problems with older version of NAV in this computer and need to uninstall software. Press fix-it. You jump to old version of NAV control panel- and there is RED warning that I need to dowload and install some update to remove that damn software. I killed that process and tried to uninstall software from add-remove-programs. No way, there are other users loged to this computer. And installer exited. I rebooted computer to eliminated logged users, hanguped software and other unknows reasons "not to install NAV".
After reboot, install process continues. Then I need to register to some NAV-Symantec oline service. I don't want, but until I didn't register, I can't continue configuring antivirus… But if you press "Next" ignoring red messages about invalid entries, this "registration" is skipped. After this, antivirus is loaded, and it began to worry that antvirus database is out of date. Dowloading of databases and updated took very logn time (it is not internet connection speed problem). And then… we need to restart windows.
Compared to old (7.x) version of AVG, NAV 2008 is ugly slow, time comsuming, CPU eating, silly designed and bad working software.
It took 50 minutes to install NAV2008 to old Celeron (1.6Ghz, 512Mb RAM) computer!
It is not worth such money…