I would like to introduce part of my workbench. It is computer side of my workbench. There is electronics workbench, but it is not described here. I've made some order here before making pictures- regularly there is a big mess here: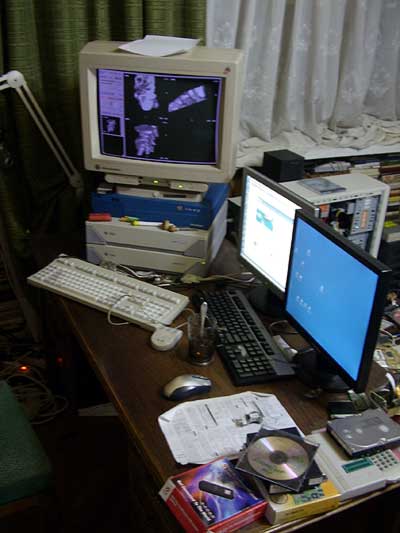 Small description of the stuff:
1. Very old, >20″ SGI (Silicon graphics) monitor. It is time to throw it away, but from time to time I need to connect so old unix box of some PC with nonstandard video timing. This monitor is capable to sync to very wide range of sync signals (or even without them- sync on green). The only problem is rare 3W10 connector. I've made some cables for it. Very heavy.
2. Some old unix boxes: SGI Indy, Sun Sparc Xterminal 1 and Sparcstation 5 (from recent blog entries you may understand were I found last one). And what is displayed on CRT screen.
3. My regular computer, every day it is getting older and weaker compared to new ones. It is P4, 3GHz, HT computer. (nor D, nor Duo). with some SATA drives and 2GB of RAM. I was sick of out-of-RAM messages and virtual memory performance. Now memory is cheap and I recommend to invest some money to RAM.
5. Two 14″ LCD monitors. I love Lot's of desktop space.
6. some HDD.
7. Black keyboard. I love classic small keyboard. I hate "natural" keyboard and keyboard with "media keys".
8. Classic Russian tea cup. Regularly I drink white coffee with lots of sugar.
9. Sun keyboard. It is only connected to test sparcstation.
And now backstage…

I have another, lower, table. There are lot's of stuff on it. Now it is same computer from other photo. You can find old HP Laserjet 6L printer (time to change it) and SCSI Raid box (not used). I used it as saddle support. But when my horse died, I never bring saddle home. Maybe in distant future I have another horse… But I don't have good place for it.
That rainbow-ribbon cable is temporary SCSI connection from Sparc to external disk. Now I use it for scanner. (much better performance than using USB).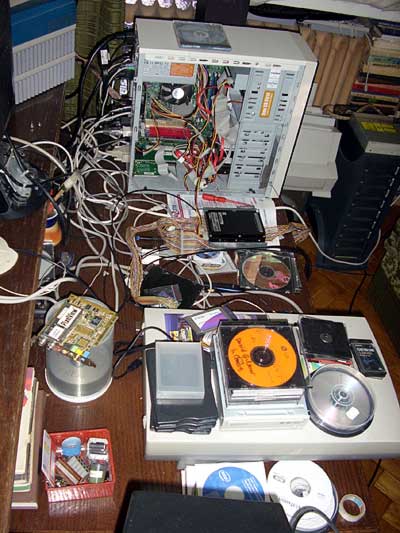 Here is "power cord side"- lots of cord and wires. Some power, other LAN, USB and other cables.