Today we'll open quite big Logitech Z-640 sound system sub-woofer. According the specifications:
Total output power: 70 Watts RMS
Subwoofer power output: 25 Watts RMS
Satellite speaker power output: 45 Watts RMS (9 Watts RMS per channel)
Total peak power: 140 watts
System frequency response: 35Hz – 20kHz
Signal-to-noise ratio: >75 dB
Input impedance: > 5,000 ohms
Shielded satellites for use near video monitors
Sold locally for about 250…300Ltl.
I am interested only in subwoofer, so satellite speaker are not analyzed. I am interested in subwoofer and audio amplifier. And it looks so cool…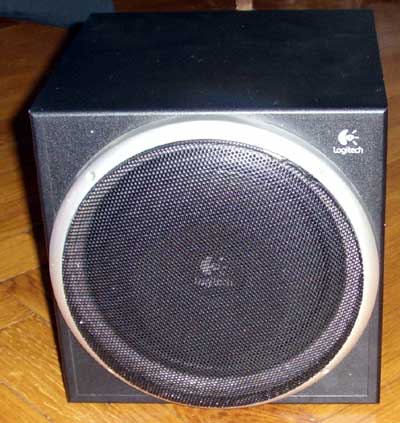 So, grab your screwdriver and tear it apart…

I removed protective grid and unscrewed all screws in front and … removed big passive membrane. It is not a speaker! Inside you can see smaller speaker and small transformer. It is impossible to remove back cover without opening the front as wires inside the box are very short.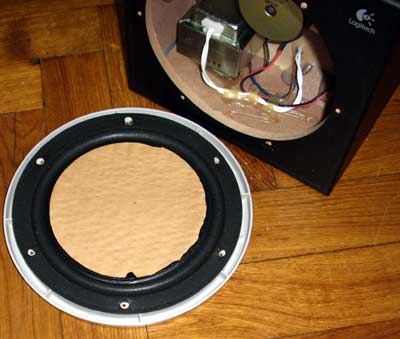 That small hole near transformer and speaker is tunnel of phase inverter. It is going to amplifier side of the box.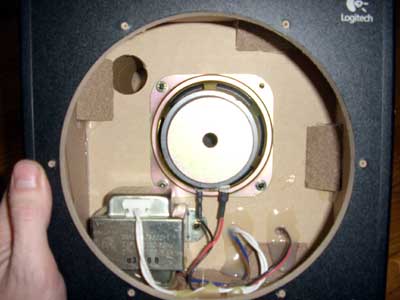 If you can believe in Chinese made prints, the speaker is more powerful than printed in technical specifications. But it is Chinese made stuff, using special, Chinese "watts".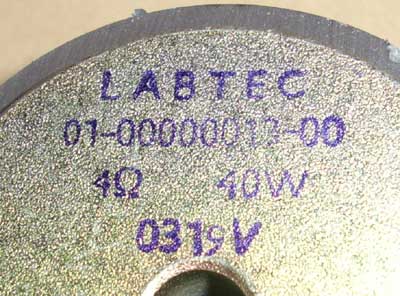 The transformer for audio amp PSU is too small. Primary is 240V, secondary only 14.2V at 2.4A max. According to simple calculations- P=U*I=14.2V*2.4A=34.08W PSU output (compare to description of total power of 75W). And take note, that amplifier is not 100% efficient, and there is not always 14V in output. So, you can't drain more power from audio amplifier than it received from power supply.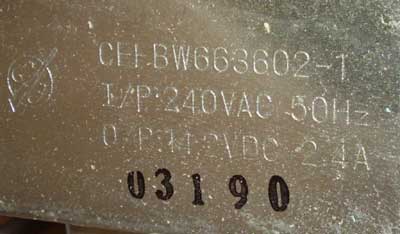 The audio amp itself is made using two TDA7375A chips. According to the data-sheet, it is: 2 x 26W/4Ω @14.4V, 1KHz, 10% or 4 x 7W/4Ω @14.4V,1KHz, 10% or 4 x 12W/2Ω @14.4V, 1KHz, 10%. I don't like this 10% THD at max power. So for normal music, do not use max power.
According to the PCB, one chip is connected as four independent channels and other chip is connected as dual bridge- one bridge for subwoofer and one for front speaker. As the speakers resistance is not 2 ohms, the output power is less. Also, the output capacitors are too small. According datasheet you must use 2200mkf and in real, only 470mkf caps are used. So less power is transferred here. Chip max output is 7W and is speaker system specifications- 9W. This is lie.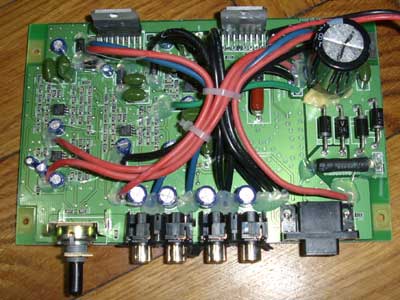 There are some positive things in this audio amplifier. The OCB quality is very good. All possible moving parts are glued to PCB- no annoying sound in subwoofer. All screws are covered with varnish- so they will not unscrew by themselves. In fact, it is very difficult to unscrew the screws. All resistors on the PCB are precise- I didn't found any "approximate", 10% resistors.
Preamp is made using quite good S4560 operational amplifiers. According the datasheet it is linear up to 100kHz. So the sound will be clear, without distortions.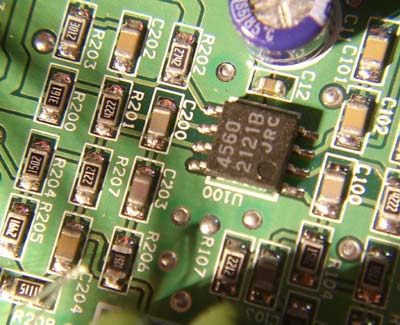 If the PSU was bigger, the capacitors value proper and output chip better, it could be very nice amplifier. Now it is quite good device if playing music not too loud.