From big pile of bad computer stuff I selected three cards to destroy. The selection criteria was a bit strange: the add on card were big and heavy, solid design and maybe expensive.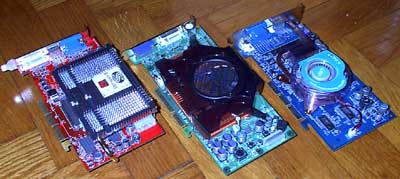 So, here we have:
Radeon 9800 PRO 128Mb with passive cooling: heat-pipe and double large heat-sink.
Winfast PX6800GT with heatpipe, cooler and double huge heatsinks.
Siluro GF4 Ti4200-8X OTES, 128Mb with turbo cooler, heatpipe and small daughter board.
All card used double card space. Before breaking apart these cards I inserted them to old AGP computer with … DOS. Two cards seams working, third didn't go to the slots, as seams it is low voltage only version.
Damn, if they work, I need to test them before breaking apart. In fact I selected them to cut the cooling system from them and adapt it for better cooling of my X700 card.
Images from internet: