I have few Kenwood TK-760G-1 transceivers (two-way radios) and they all were programmed to one channel and all other features were locked. In the internet and in local newsgroup I collected various software for Kenwood programming. All I needed is programming cable. My first attempt was with MAX232 adapter borrowed from Atari SIOP cable. I managed to get "-PC-" message but nothing was working. At last, I build cable exact like in some Russian internet pages. Also I hear rumour, that for programming I must use very old and slow computer. In local trash I selected P1 running at 233MHz. I soldered the cable, connected and everything is working!
The circuit diagram for programming cable is something like this: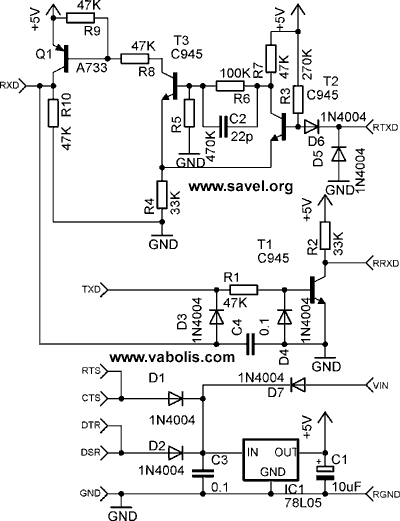 Big image for printing.
As always, some components were not available in my closet, so I used something looking like needed


I didn't find (in fact, I even didn't tried to find) original transistors needed, so I replaced them with refurbished ones from old ATX power supply: A733 and C945 pair.
I didn't used C2 capacitor. Also, R3, R4 and R5 resistors are only near needed values.
Cable pinout. At Kenwood 8 pin connector like LAN (Ethernet) port or 6 pin: GND- 3(2), RTXD- 4(3), RRXD- 7(6). In brackets you can see pin numbers for 6 pin socket.
As I understood from the description, this adapter can be used to program other types of radios. And not only Kenwood, but Motorola and other brands. BTW, this cable is called "universal programming cable".
Original idea, schematics from Hungary by Gyula HA7JCA.