I have gathered graphic LCD monitors from old devices (mostly from copiers). That's simple monochromatic LCD monitors without controllers. An image should be dynamically tranferred from controller for these monitors. There are SED1351 or similar graphic controllers mostly. Maybe it's possible to find a datasheet of SED, but not to find the monitors. I'll try to look into several LCD monitors with the help of an active board.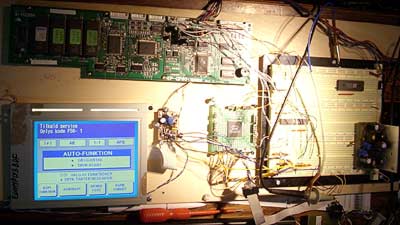 By the way, these monitors often need negative voltage supply. The main logic is powered from 5V.
LCD monitor named "EDMMPU3BDF", the white blue monochromatic graphic monitor 320×240, mostly has a touch screen.
1. screen_on (0-off, 5V- on)
2. nc
3. VSync
4. HSync
5. pixel clock
6. Vcc, +5V
7. GND
8. Vee, -25V (the same as pin 13)
9. D3
10. D2
11. D1
12. D0
13. Vee, -25V
14. contrast, ~-18V
Standard protocol is shown graphically (oscillogram):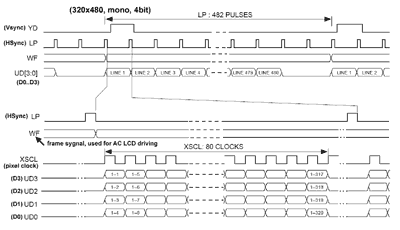 Big picture for printing.
WF signal is used in several LCD circuits to generate the alternating current through LCD crystals in order to protect metallization from erosion. Not all LCD monitors use this signal. There is simple logic signal, which changes to each picture.