I have already wrote about terminal computer I have. I didn't managed to start Windows CE on it. Maybe there were some problems in configuration or something. After some time I received more terminal computer and they booted Win CE without any problem. The only problem was in the hardware- blow up capacitors in the power supply. I changed them and everything is fine.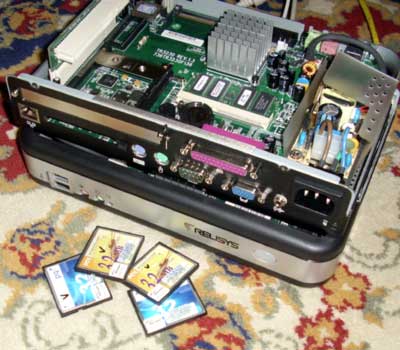 Terminals booted Win CE and I can see standard blue windows desktop. And some requester about connecting to some server. And nothing more. I checked contents of CF card but all information is "crypted" inside few system files. Somewhere there is all settings and passwords stored, but where? The only solution is to "damage" system settings file to force system to "default settings". I noticed, that if I move (and even place it back) "system.hv" file, windows CE (at least this version I have) will reset to default settings. Or maybe to some semi-default settings. After this file manipulations I see configuration wizard when I boot computer. Then I press "cancel", go to "Start Menu", "Settings" or "Control panel". Find "System" icon, press "reset to factory default". After this manipulation systems reboot to its "virgin" state. Now I can configure system as I want.
I found WinCE 4.2 and 5.0 (or maybe all CF card are already upgraded to version 5). This version of Windows CE have installed Internet Explorer 6.0 without Baltic encoding. Unicode is installed and new web pages with unicode charset (like this weblog) are displayed with proper symbols. But all older Lithuanian web pages with Baltic codeset displayed with mixed symbols.
This is nice and slow fanless internet computer. There are some other software in install like remote desktop clients, file viewers and mail software.
While playing with CF cards and files inside it is important not to touch BLDR file in root drawer.
Contents of my CD card:

2003.04.15  18:38            16.384 BLDR                  
2007.12.06  20:04    dir          BMP                   
2007.12.06  20:04    dir          Documents and Settings
2020.01.28  04:38            67.739 EBOOT.BIN             
2005.08.20  16:18        15.484.163 NK.BIN                
2005.08.20  16:15           308.316 SPLASH.BIN            

Contents of Documents and Settings:

2007.12.06  20:04    DIR          default
2001.05.31  12:24                52 default.mky
2001.05.31  12:41           131.072 system.hv
2004.09.08  09:45                52 System.mky

Contents of default:

2001.05.31  12:41           131.072 user.hv
BLDR is the "second" boot loader. First one is in the first sectors of the disk. Splash.bin is startup (boot) screen image. It is uncompressed raw image. eboot.bin- unknown. nk.bin- is the image of windows ce operating system.