My co-worker bought notebook. It was some from Fujitsu Siemens Amilo series. So from cheaper ones. At the same time I've bought similar computer, but more expensive few bucks. So my co-worker was very happy that this time he was smarter and managed to beat my price.
After some time, we decided that 512Mb of RAM sucks. So I bought some memory for my notebook. My counterpart decided to do the same. I only offered him to open the notebook to check the type and options for memory expansion. So we did this procedure: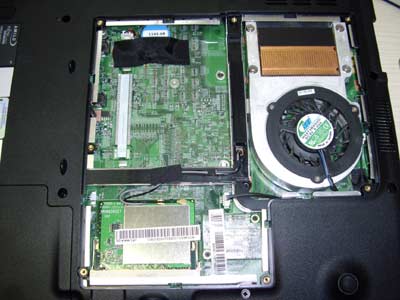 WTF? Where is the SO-DIM/DDR slot? There is place and even silkscreen on the PCB, the the slot itself is missing. I examined documentation and I didn't found any notice about memory expansion options. It is just the non expandable version of computer. Or maybe some manufacturer error?
Yeap, it is full mishap!