Somehow I received "several" bad Philips DVP 3010-02 DVD (DivX/Xvid) players. They were sold in local market about year ago for about 100$.
All the devices have same flaw- not reading disk due to the damage of flexible conductor. This is design error. I think Philips must pay me some money for discovering such errors

First off all, the only thing from Philis is brand name sticker on the device and few bitmaps in firmware. It is generic DVD player with Mediatek processor. It is same CPU as in VIDO player (and many other). Disk reading device is made by ASATECH.
To repair this player just open the box, remove disk holder and look to flexible conductor. If one end, near laser is bended to sharp angle the problem is located. All you need is to change this conductor… or just spend some time and repair it.

In this image you can see the broken part of flexible pcb. Also, when removing the conductor, remove some scotch tape holding it. This tape is placed in wrong place- there is very small room to flex pcb. If the tape was glued near the main PCB, the player would be working without any problem.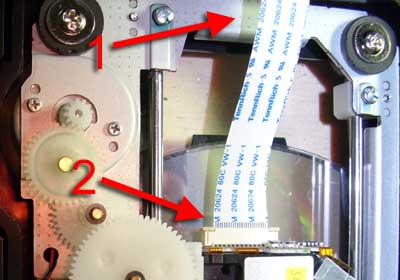 In this image you can see where the flexible conductor was glued (1) and the place were it is broken (2).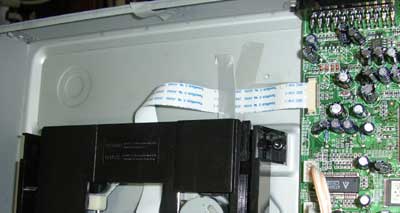 Here is the image of repaired device. The conductor is glued in other place, so it can curve in lots of space. Some players were with special pcb holder, but the flaw is the same.
To fix player you need:
1. Screwdriver "star"
2. Screwdriver "philips"
3. Scissors.
4. Some Scotch.
5. Good thermoregulated iron (if you want to fix pcb instead of buying new one)
6. Some other tools and steady arms.