LC meter based on LM311 and PIC16F84 micro controller. 0.0pF – 1uF and 0.0uH – 0.5H range. Quite precise meter.
My Machtech tester is capable of metering the capacitors, but is very complicated to measure short lead capacitors, not speaking about SMD ones. Also, I needed to measure the coils. In www.sprut.de I found some LC meter schematics. It was quite interesting and capable to measure very small values. It is based on the LC generator frequency difference when additional capacitance or inductance is attached. The only precise element in the meter is capacitor. Also, it is possible to use trimmer and set the meter to required level of precision.
The meter is based on LC generator on LM311 and microcontroller PIC 16F84 (16c84). The indicator- standard alphanumeric LCD display. From old Hagenuk cable detector I removed very nice LCD displays with big numbers and symbols. They are as twice as big as normal. The internal jumper JP1 is used to switch meter from nanofard mode to microfarad. It is useful for old schoolers

The meter under the construction: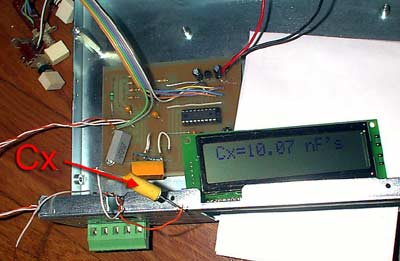 Original schematics are in the author pages.
Preview of the schematics: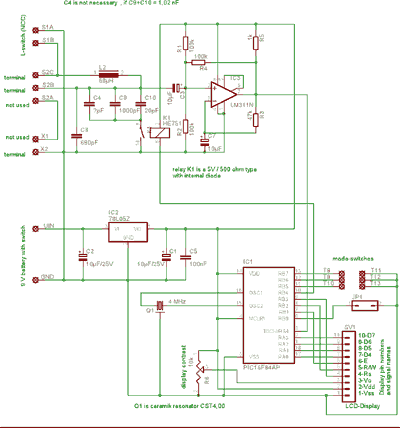 I'll place this meter and other stuff to standard 19″ rack from some old switch. There is original PSU from the switch. It gives me all needed voltages and is quite powerful.
According to mine idea there will be: LC meter, frequency meter, wide range high frequency functional generator with sweep option.