Everything is working with simple passive mosfet drive. But if we increase switching frequency or place powerful mosfet (or even several mosfets)? There is no load in gate circuit, but there is gate capacitance. And if we need fast switching we must charge and discharge gate very quickly. With passive drive there are limitations. We can use active charge-discharge circuit. Also this circuit uses inverter transistor for proper signaling: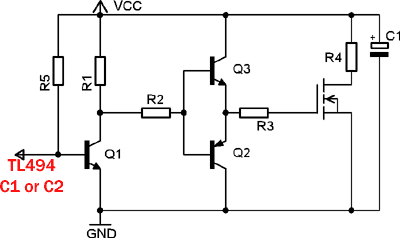 Totem pole mosfet drive (push-pull)
Few comments about schematics. R5 is TL494 output load- anything about 1K. R1 is Q1 load, not critical- 1K. Q1 inverts signal from controller. R2 is used to prevent overload of totem pole bases. Q2 and Q3 are complementary pair. R3 are useful if are few mosfets on the output, only few ohms. Q1 and Q3- C945, Q3-A733. All transistors from old PC power supply. R4 – load simulation.
(C945- npn transistor, ~50V, 100mA, 200mW; A733- pnp, ~50V, 100mA, 200mW)
Connect pair of these totem poles and connect to transformer like in older post. You can notice small increase of the performance. Don't overload. There are lots of parasitic oscillations in this circuit.