Another exotic and useless hardware in my collection: CD Disk changer PIONEER DRM-624X.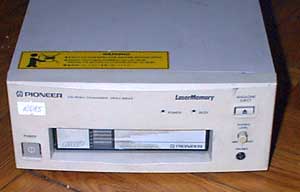 It connects to computer via SCSI bus. It is external device, with SCSI-1 connector. Connected it to computer, started windows. Nice WindowsXP logo, lots of noise from disk changer and nothing… After waiting about 5 minutes I removed the cartridge. Now windows started. Selected 6 random CDs and populated cartridge.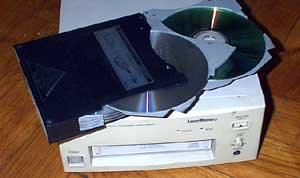 Lots of CDROM devices in my windows. Click on one, some noise from changer, and I can see the CD contents.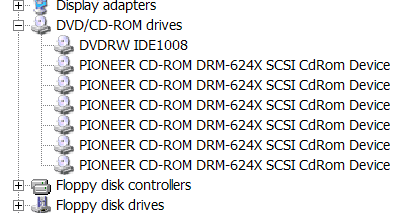 Yeap, it is working, but how slow… It is only 4x speed CD drive. CD change takes about 5 seconds and much more windows recognises the CD. I thing, that lenses were not cleaned last 10 years

But there is a big problem using this device in windows. If user in any program press file requester and selects "My Computer", it jumps to big problem. OS ask for volume names of all 6 CDs. And it is impossible to read all CDs at once in CD changer…
Still not prepared Linux computer for testing, But I think, it must work without any great problems, only it is interesting thing about mounting volumes.
Now I am wondering, what to do with this stuff? Sell for 6$, adapt for some use or just simply throw it away to trash where I found it.