It WAS USB2.0 flash drive from Transcend. It was faulty from the beginning. Sometime the system freezed during work and after few of such hangings, the device is unrecognisable. As user lost documents of buying it was given to me. It is not working so I opened to see what is inside: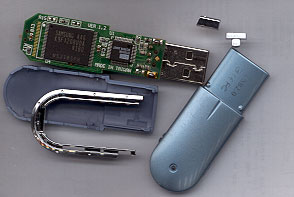 USB flash drive from inside
The small PCB contains one micro-controller from OTi (OTI002168, Ours Technology flash disk controller) and one flash rom from Samsung (K9F1208U0A). It is 64M x 8 Bit NAND Flash Memory with a spare 2,048K. This chip is interesting for some experiments as it uses only 8+9 pins for all address, power and data signaling.


The ROM and The MCPU
The other side is with 12MHz crystal, 2 transistors or stalisators (5->3.3V) and few pasive stuff.